Here at Seattle MINI, you can find a dealership that is dedicated to not only the MINI brand but also its customers and clients. We are the only certified MINI dealership in Washington State. This means you won't find another dealership that is fully manufacturer trained in Sales, Service, and Parts. 
We offer all MINI options, including 2- and 4-door MINI Hardtops, the Fully Electric SE, as well as the MINI Cooper Convertible!  For a more spacious drive, the MINI Cooper Countryman or Clubman may be an option for you as well. 
At Seattle MINI, we also take great pride in protecting and helping the environment. Join us in helping keep Seattle green with one of our BEV MINIs! Not only will you save gas money but also contribute to protecting the environment. 
No matter the MINI needs you have, you can always count on our dealership to provide you with excellent service from start to the finish line. Motor on! 
SEATTLE BUSINESS MAGAZINE NAMES SCHARMACH ENTERPRISES 
2018 FAMILY BUSINESS OF THE YEAR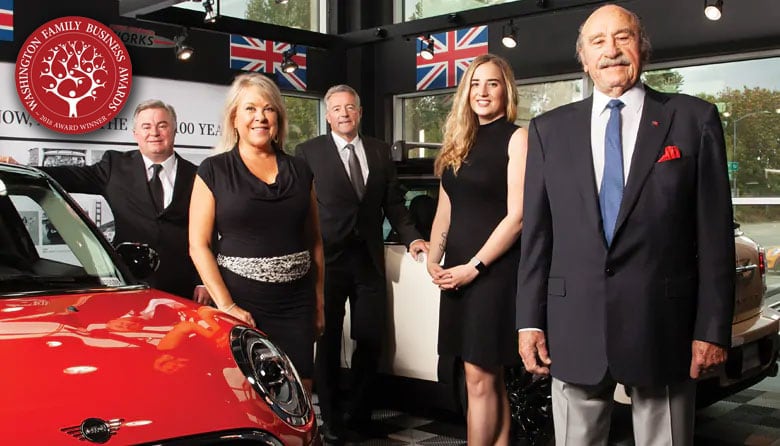 Large Company Category 
SCHARMACH ENTERPRISES. CEO Manfred Scharmach, center, with, from right, founder Werner Scharmach, Madeleine McEntyre, Lori Scharmach and Northwest Mini/Seattle Mini sales director Richard Stone. Image Credit: Hayley Young